Philips CDI 180
Philips very first basic configuration model CD-i system. Developed in 1988 in collaboration with Philips and the Japanese Kyocera for Philips America. Few have been sold in the Netherlands, these CD-I players are rare.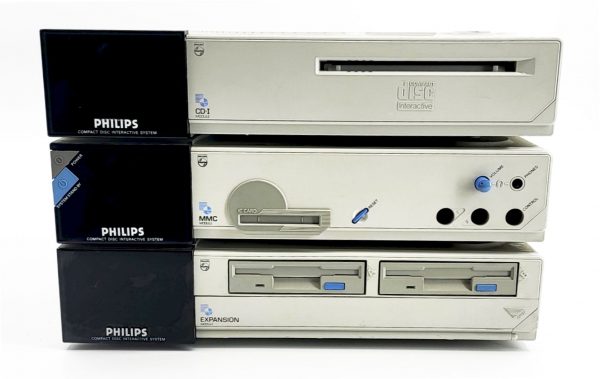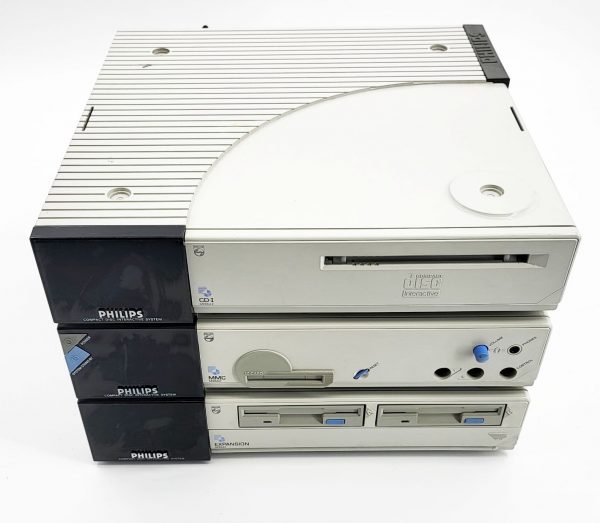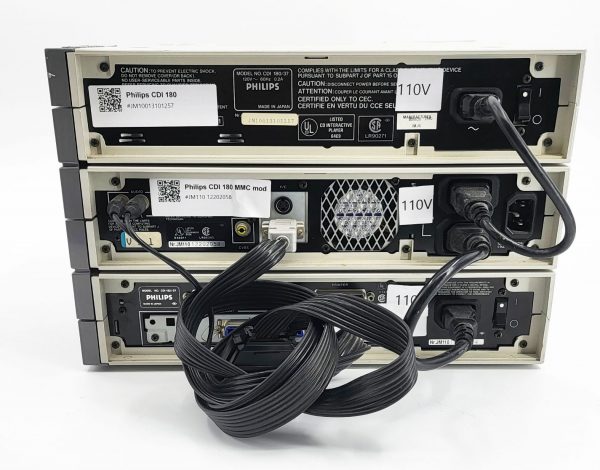 Some Philips employees took these home to work with. The CD-I 180 system has a modular construction, only the CD-drive CDI-180 with caddy loader and the Multimedia Controller (MMC CDI 181) were needed to work with. In the photo the top 2 units.
The CDI-182 Module could be added for Authoring purposes. The module was equipped with two floppy disk drives, SCSI and parallel ports and a 1MB RAM Board. The system could not be equipped with a Video Cartridge. This CD-I system works on 120 Volts - 60Hz (USA).
The middle unit is the MMC 181 or Multi Media Controller, it was for video output, and also houses the input ports and volume control, it also has an IC slot for 8K cards, replaced in later machines by a "timekeeper".
CD-i also refers to the multimedia Compact Disc standard used by the CD-i console, also known as Green Book, which was developed by Philips and Sony (not to be confused with MMCD, the pre-DVD format that also co-developed by Philips and Sony). Work on the CD-i began in 1984 and was first publicly announced in 1986. The first Philips CD-i player, released in 1991 and initially priced at around $700, can play interactive CD-i discs, play audio CDs, CDs and CDs. +G (CD+Graphics), Karaoke CDs and Video CDs (VCDs), although the latter requires an optional "digital video card" to provide MPEG-1 decoding, like some of the machine's better games, these costing the machine prohibitively expensive compared to competing systems such as the SNES and Mega Drive, this version of the CDi could not be upgraded with the DVC.
The CD-i turned out to be a commercial failure in that market segment, Philips stopped publishing video games for the platform around 1996.
One of the system's weaknesses is only 2 channels for sound, meaning music for games has to be in one and sound effects in the other.
Catalog type
Multimedia computer
Museum Collection