Psygnosis Amiga 1200
This Amiga 1200 used to belong to Mike Clarke. One of the people working for Psygnosis.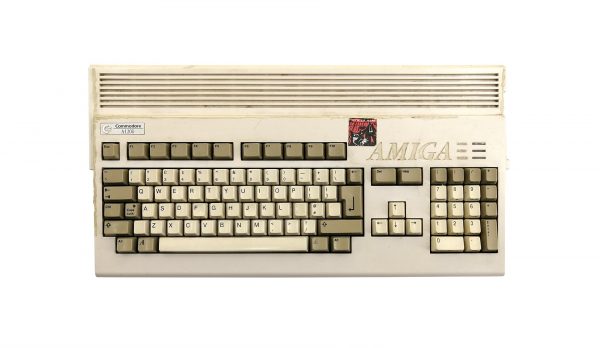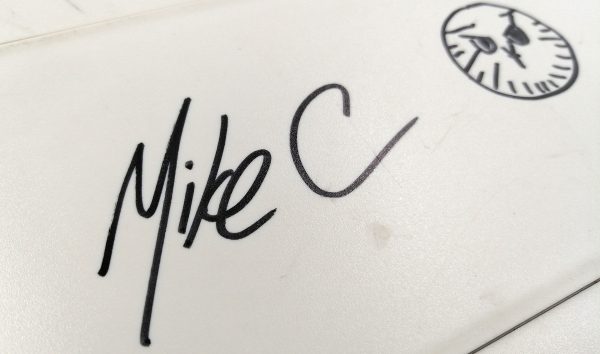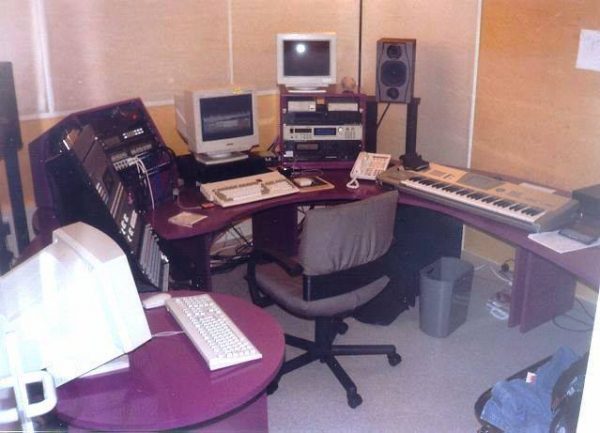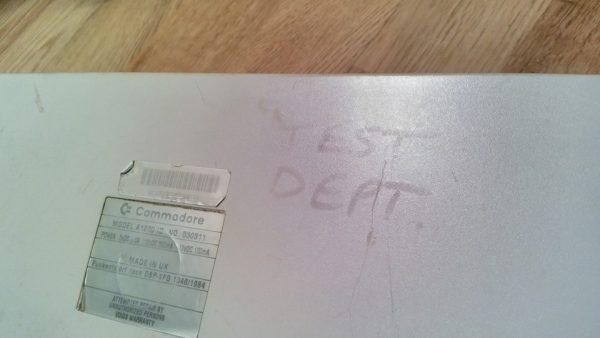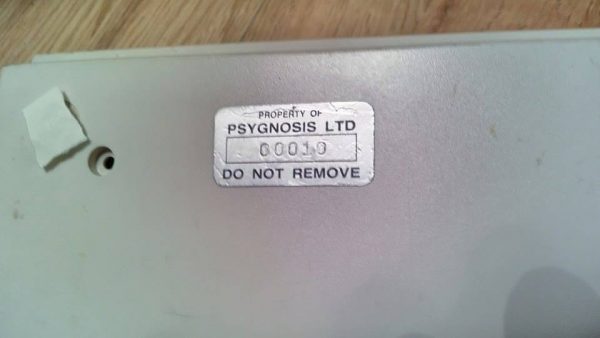 He wrote over this Amiga: "I dug out my Psygnosis Amiga 1200. It has turned somewhat orange, reflecting its very unusual history. The weirdness on the edges is glow-in-the-dark paint that I put on a long time ago. It doesn't glow anymore. And that's a Faith No More sticker on it. This workhorse was basically my life and got customised accordingly.
It started as a test machine in QA until I needed a 1200 and commandeered it. I used this marvel for about 6 years until I got an A4000T. It has a GVP A1230+ II in it and was used on around 30 games.
Amiga games I used it for: Operation G2, Globdule, Theatre Of Death, SuperHero, Combat Air Patrol, Indigo, Armour Geddon 2, Last Action Hero, Brian The Lion, Wiz'n'Liz, probably a couple of others along with various marketing things and demos.
Mega-CD: Dracula, Frankenstein, Microcosm, some unreleased games.
SNES games: Lemmings 2, Apocalypse 2, Super Dropzone, Bill's Tomato Game (never finished)
Playstation games: Mickey's Wild Adventure, Krazy Ivan, Lifeforce:Tenka, Lemmings Paintball, Formula 1, Destruction Derby 2, F1 98, Psybadek, Wip3out, Super Dropzone
It was also the only thing of mine that didn't get stolen when we had a break-in because I used to take it home every night. You can see it there in the last photo when it was in my studio over 20 years ago (!).
It was used for two things:
I edited the sound effects for Wip3out mostly using Soundforge on the PC, but Sony's Playstation audio tools ran on a mac. I was freelance when I did Wip3out, so didn't have the Quadra that I used to use at Psygnosis. Instead I used the Fusion Mac emulator on the Amiga.
Second was for creating a test sequence (using Bars & Pipes Pro) where I created a fake audio simulation of the game that triggered the samples as if they were being played back in the game. It allowed me to tweak things to sound more balanced.
This computer is made available by: Marvin Droogsma
Catalog type
Speciale editie
Processor
Motorola 680EC20
@ 14 MHz
Museum Collection
Set up in the Spacebar area.