Join us for an EqualTable night at the HomeComputerMuseum in Helmond!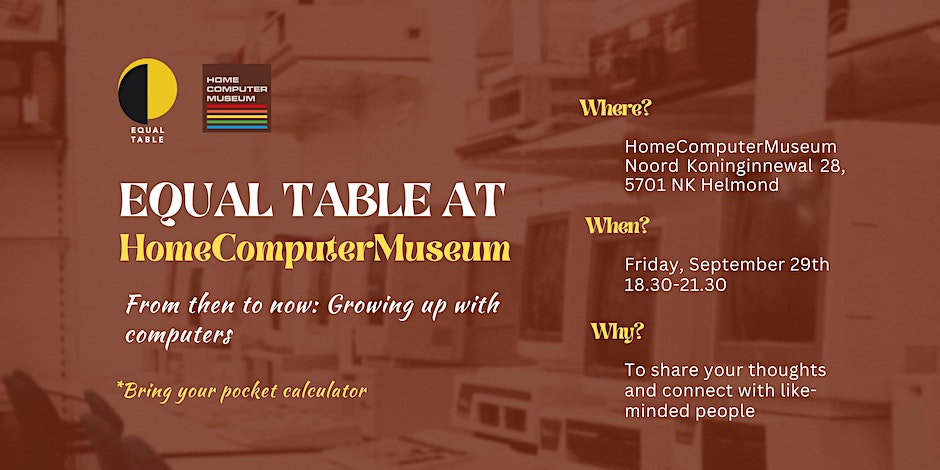 Nowadays we are constantly interacting with computers like our smartphones, tablets notebooks or personal computers and it's hard to imagine a life without them. If you ever wondered how the early personal computers looked, or if you want to go back in time and play with the computer you had many decades ago: Here's your chance!
We've arranged a special event at the one-of-a-kind HomeComputerMuseum in Helmond. This museum showcases a wide range of computers, providing a glimpse into their evolution – and you can touch and play with all of them. What's even more exciting is that we'll be holding a discussion right in the midst of these historical computers.
For whom is this event?
Computer enthusiasts and those just curious about vintage computers are cordially invited to explore and exchange thoughts on this fascinating topic. We look forward to having you join us!
Who is the Moderator?
Our EqualTable discussion will be guided by Ernst Galutschek who is very passionate about his first computers. His first computer was a Commodore 128D but he is more passionate about his beloved Amiga. During the EqualTable conversation, Ernst wants to build a bridge between generations by remembering the pioneering time of digitalization and exploring how younger generations perceive computers.
After the EqualTable discussion, there will be an opportunity to explore the museum, mingle with fellow Equal Table members, and freely interact with the computers on display for as long as you'd like.
What is Equal Table?
Equal Table is a platform of the international community designed to promote inclusive and respectful conversations among individuals from diverse backgrounds. It provides a space where people can come together to share their opinions, ideas, and perspectives on various topics.
You can choose to participate or simply listen—it's your decision.
The interactive EqualTable discussions are usually divided into three rounds. In each round, audience members will be randomly selected to join the moderated conversation by taking one of six available chairs. Of course, you can stay in the audience if you do not want to join the conversation. On the other hand, a seventh empty chair allows anyone in the audience who has not been drawn to join the conversation at any time in a structured manner.
The Equal Table discussion will take place in English and is expected to last about two (2) hours.
Photos will be taken during the event which we will use across our platforms. Let us know ahead if you don't want to be in a picture.
The location: Home ComputerMuseum, Helmond
The HomeComputerMuseum is a 1000+ m² interactive computer museum. It covers the history of the home computer, from the very first home computer to modern variants in the late 90s and beyond. You will find various spaces that are decorated in style by era with various accessories from that time. So it's more than a computer museum, it's a journey through time through computer history. Computers from brands such as Atari, Commodore, IBM, Olivetti, Philips, Sony, Tulip, Acorn, Sinclair, Tandy and many others are ready to play, there are several generations of game computers and arcade cabinets in the Arcade room. With a specialized workshop for repair and an arcade café, this museum is unique in the Benelux.
Agenda:
18:30 – 21:30 - EqualTable Conversation
21:30 - HomeComputerMuseum open for participants: Play with all computers as long as you like!
Details :
Date & Time: Friday, 29th of September 2023, 18:30
Location: HomeComputerMuseum. Noord Koninginnewal 28, 5701 NK Helmond
Tickets: Mobile e-tickets, 15 Euro per person
Drinks will be available after the event, Beer and soda €2,20 per can; €3,00 for a normal beer, €4,50 for specialty beer.